Day 3- Learn how to publish your first Advertisement on Google
Step 2- Create and Launch Your Google Ads
This is a 3 days training via blog posts on How to advertise on Google.
This post is a continuation from the post on How to succeed with Google Advertisement which explains the fundamentals of Google Ads, how it work and how advertisements are ranked. In this post we explain how to get started with Google Ads.
1. Get Started – specify Your advertising goal
To begin, go to: www.ads.google.com and sign in with a google account (a gmail or other google account). Begin with selecting what is your goal of this advertisement. This is very important because Google uses machine learning to deliver real results tailored to those goals, like phone calls, actions on their website, and store visits, making it easy to reach more customers.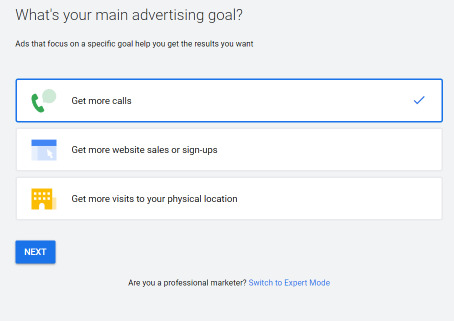 2. Describe Your Business
By describing your business your business, Google Ads engine will be able to search for the right audience to achieve your goals.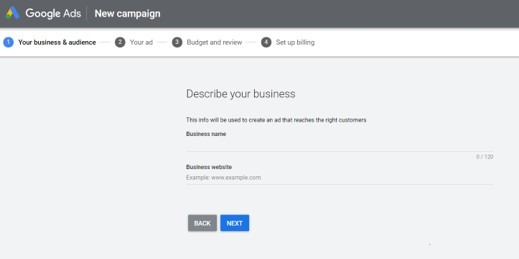 3. Specify your target customers' location
WIth this, Google will be able to reach the right customers base on the location you want.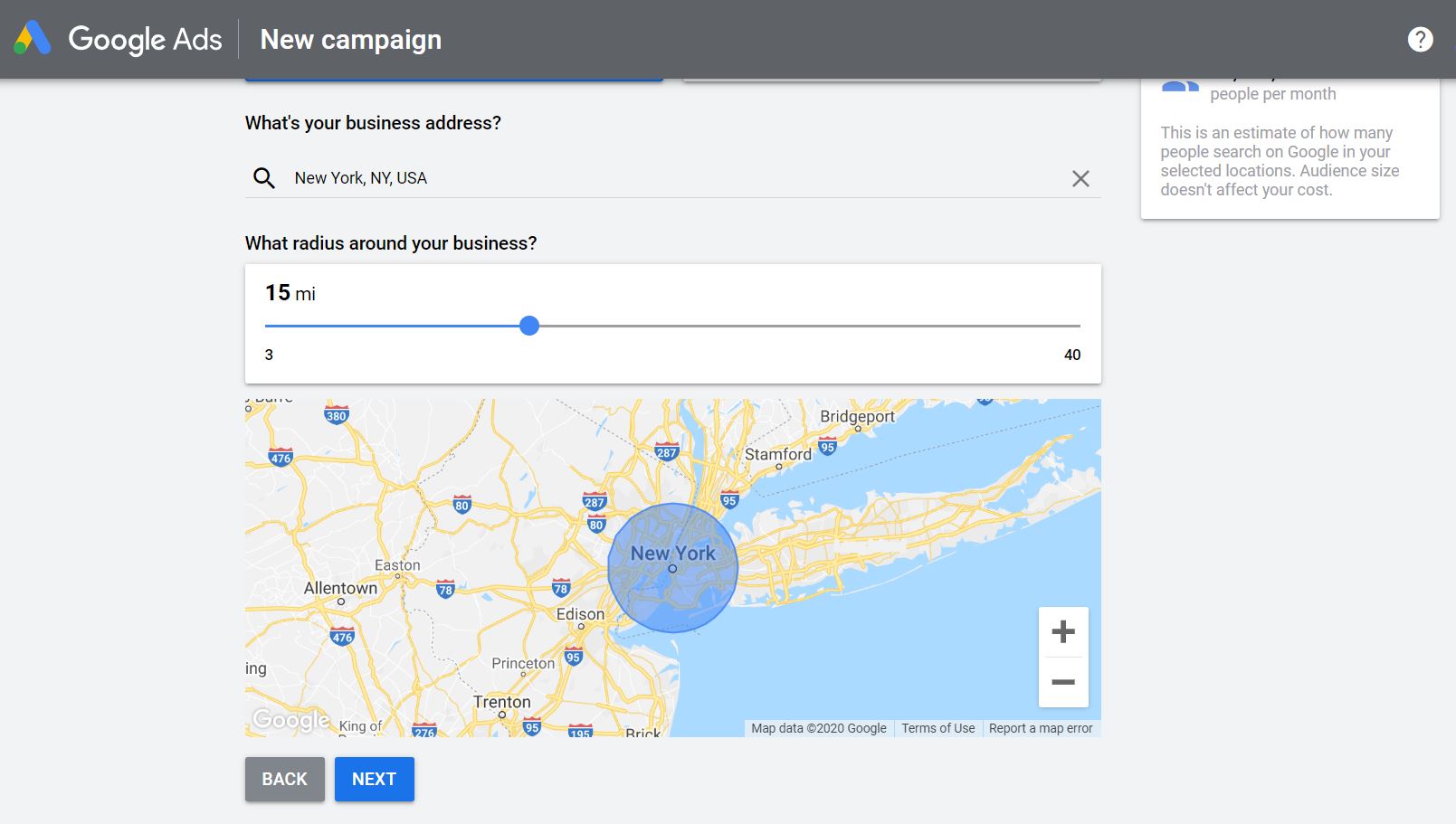 4. IDENTIFY YOUR KEYWORDS
Keywords are the search terms that your potential customers will enter in Google search. Base on your business website and the description of your business, Google will present a set of keywords for you to start with. If these are not appropriate, you can remove them and click on the "Add Keyword Theme" to add your own set of keywords.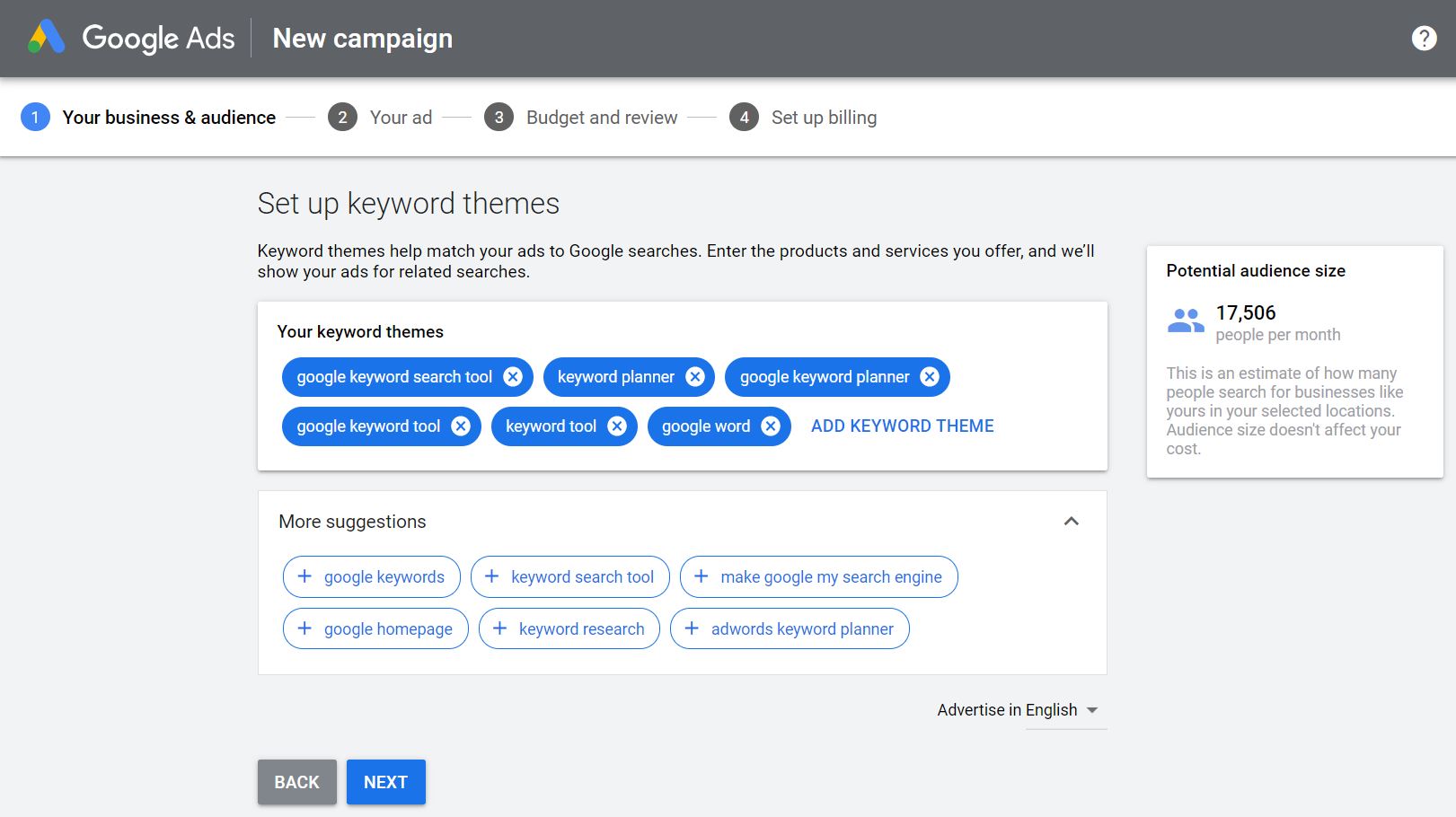 5. Create Your Ads
After you have specified your keywords (the search terms that you think your customers are likely to enter when searching on Google), you will be led to create your advertisement. This first advertisement is a text search Advertisement.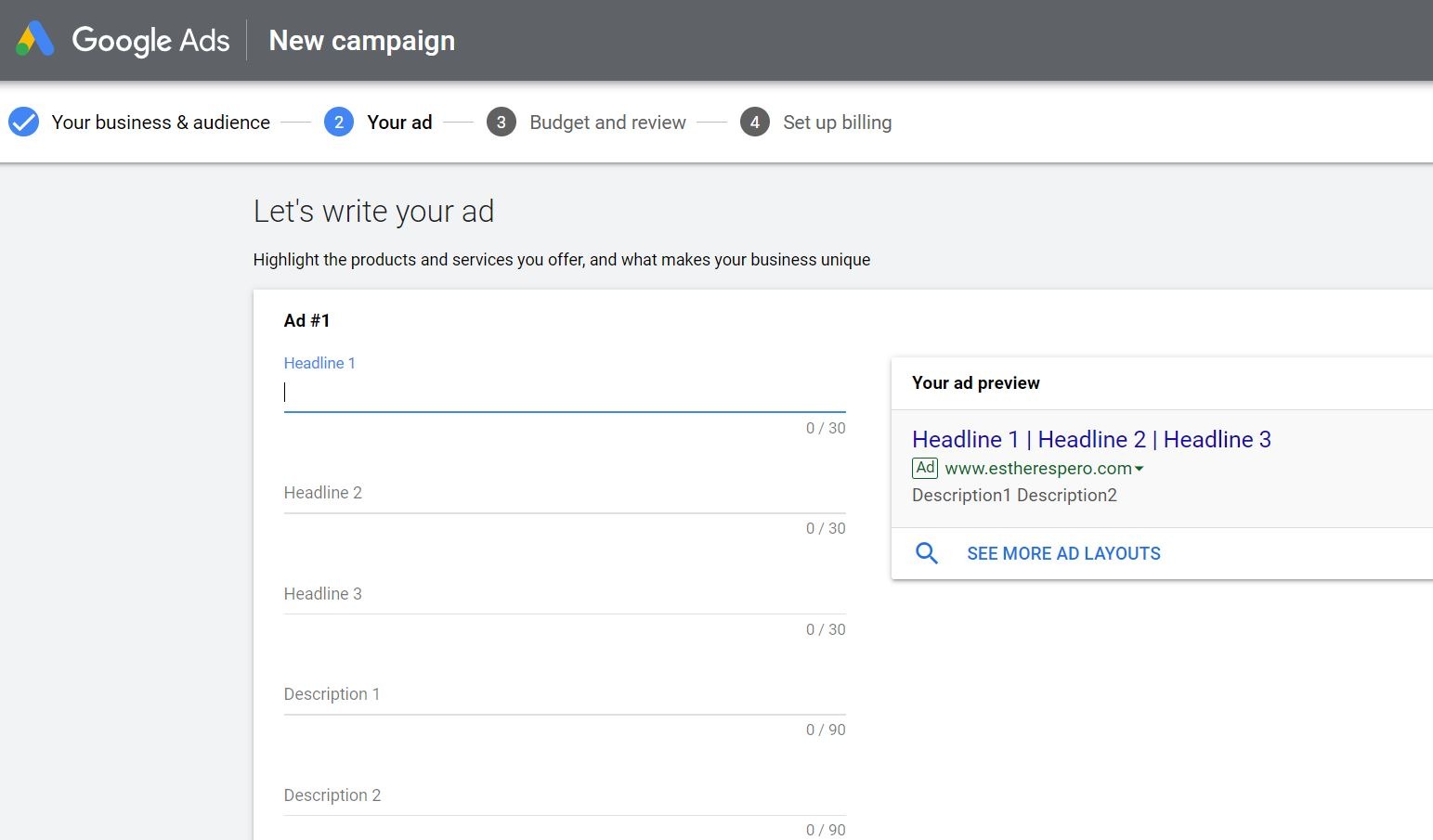 6. Set Your Budget
Base on the keywords that you have specified earlier, Google Ads database and intelligence will be able to advise you various monthly budget that you can choose. With each budget, the estimated number of people that can be reached and the estimated number of clicks per month are advised accordingly. You can select one of these options or choose to set your own budget.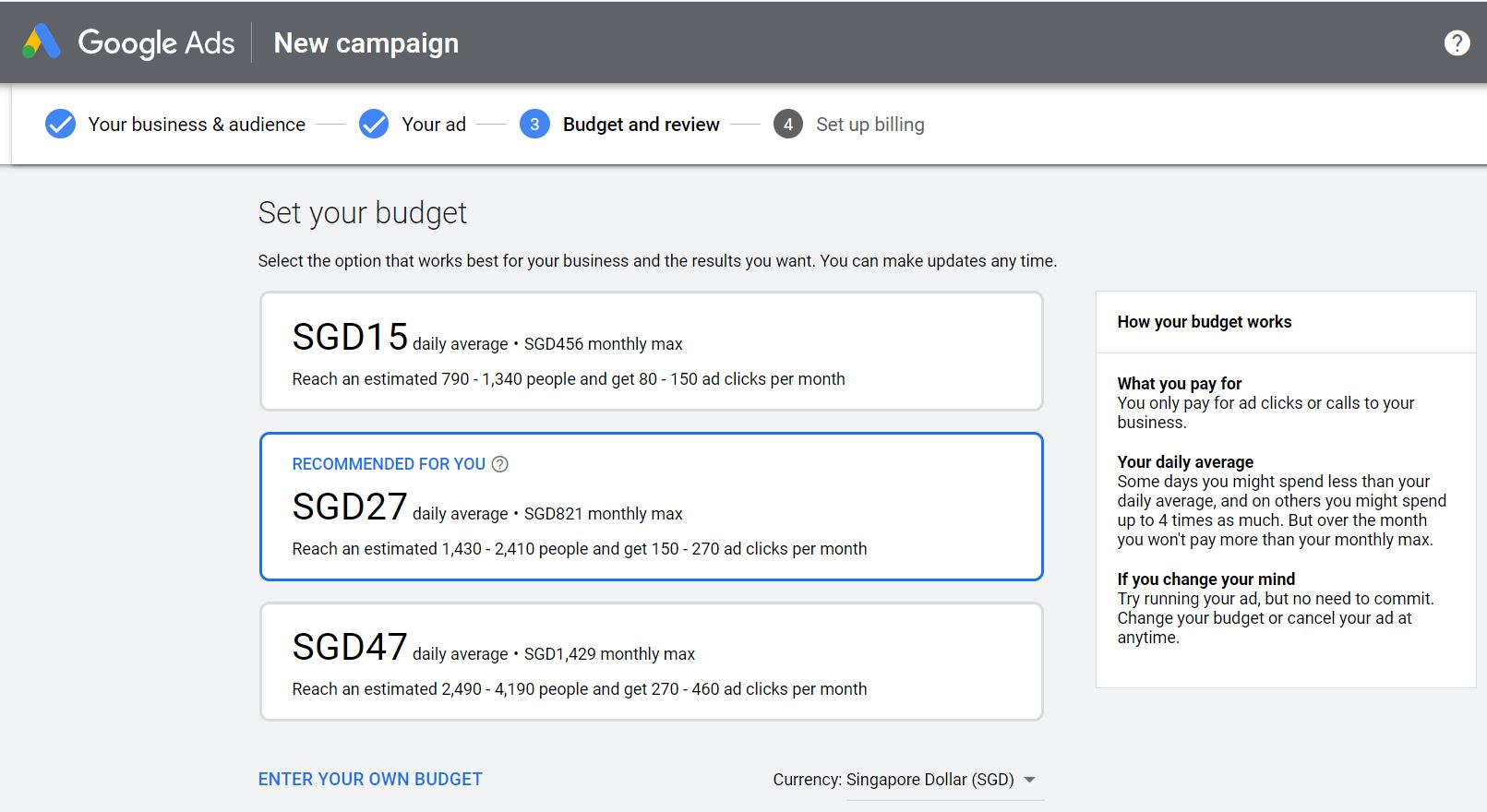 7. Review Your Ad
With all the necessary parameters set, Google will present the Ad and settings for your review.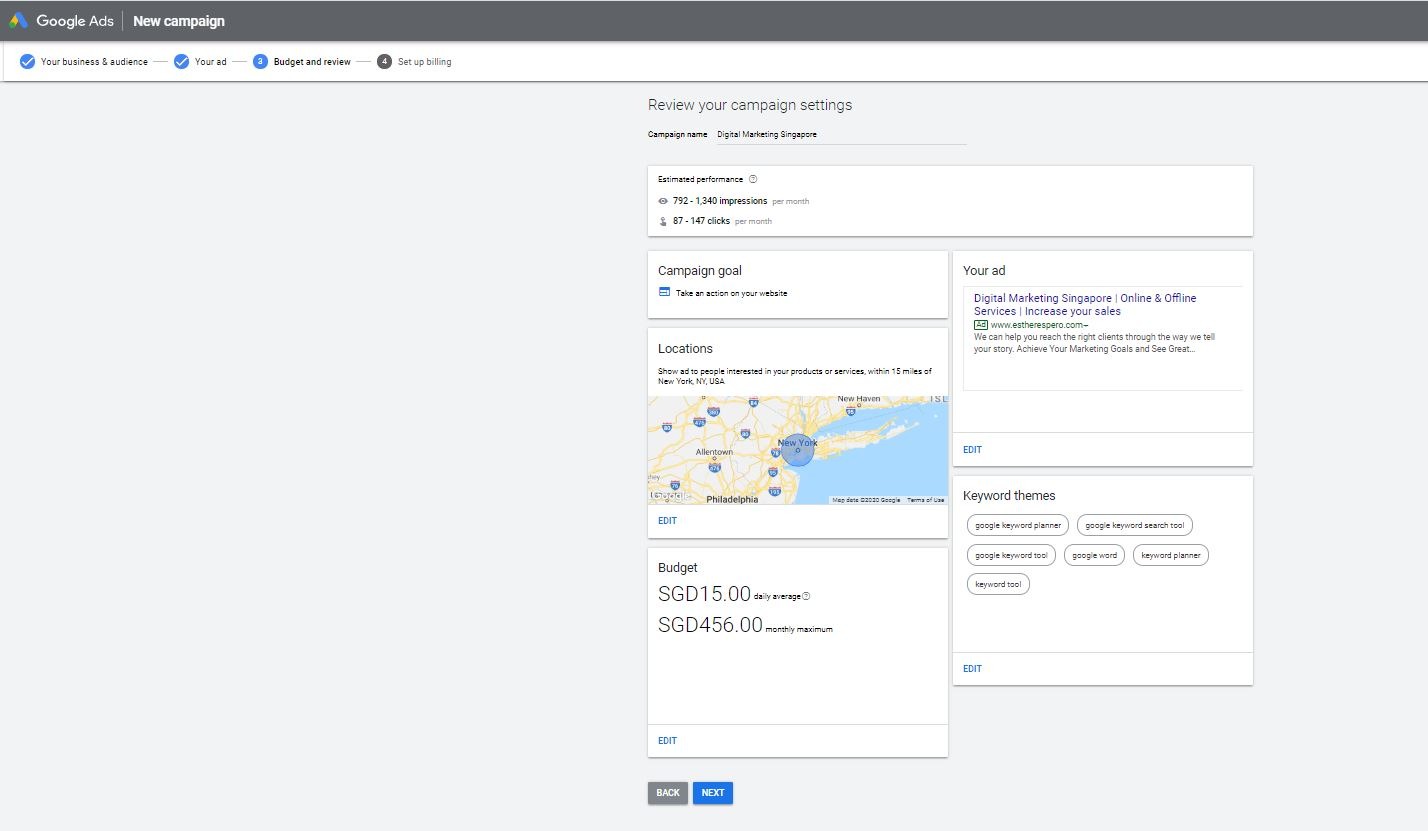 8. Set Up Billing
In most countries only automatic payment are available. Google will automatically charged after your ads run, either 30 days after your last automatic charge or when you reach a preset amount (known as your threshold), whichever comes first. You can also make payments at any time to control your costs. Hence, before you can start your campaign, you will need to specify the credit card you are using for the automatic billing.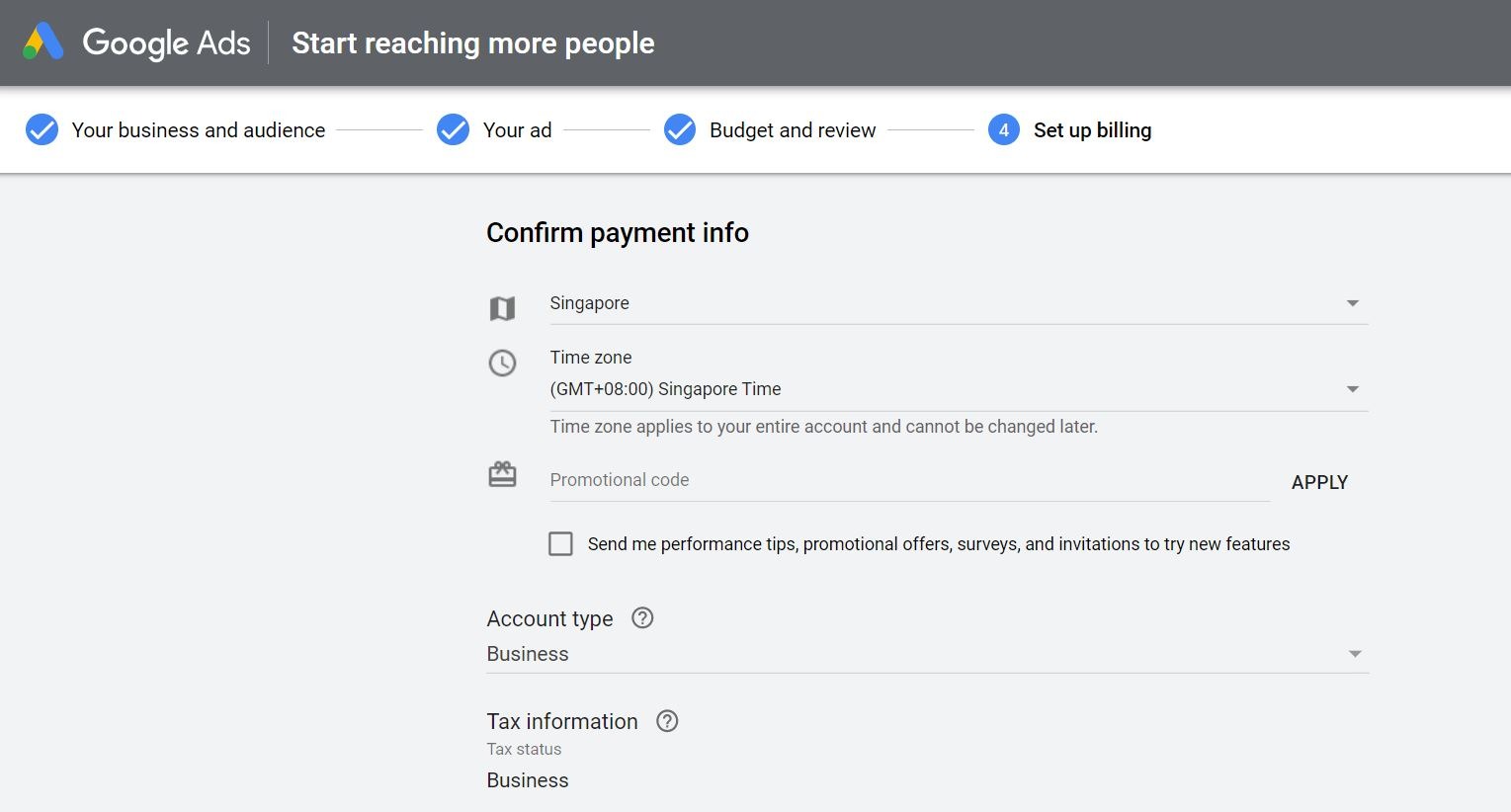 Google Ads dashboard
After you have successfully set up your billing, you can click on the "Explore your campaign" to go to your dashboard. Your campaign will be in "pending" status for a little while as Google review your Ads. Once approved, the status will automatically set to "active".

SMART Vs expert mode
When you first get started with a new Google Ad account, you are in SMART mode. The campaign you create is therefore a SMART campaign. The SMART mode is designed to give users a simplified process leveraging on machine learning capabilities. It was designed for Business owners so that the user experience is less technical, allowing business owners to focus on analysing the results. The SMART mode is like driving an automated gear car so you need not have to change your gear when you change your speed.
Google has an Expert Mode which offers the full range of Google Ads features and campaign types. While it gives advertisers more complete control over their bidding strategies, it also requires more complex management. The Expert Mode is like driving a traditional car where you need to set your gear correctly when you start the car, make your turns, and when you change your speed.
Under Expert mode, you will need to begin with crafting your campaign settings, your Ad Group, specifying your keywords and the respective Ads for each Ad Groups as described in our previous post on "How to Succeed with Google Ads". The benefit of using the EXPERT Mode is that you can make adjustment to various parameters, design your Ad Groups and Ads according to each segment of customers you are targetting for respective products. You can also select the type of campaigns, e.g. Display only campaigns, App campaigns, etc. By tweaking your parameters, your Ads, your group structure, you can gain better insights to your customers demands, and you can manage your expenses according to each desired results.
You can switch from SMART Mode to EXPERT Mode after you finish building your first Advertisement (as we will explain below). After building your first Ad, to switch from SMART Mode to EXPERT Mode, click on the tools  
  icon at the top right corner and select "switch to expert mode".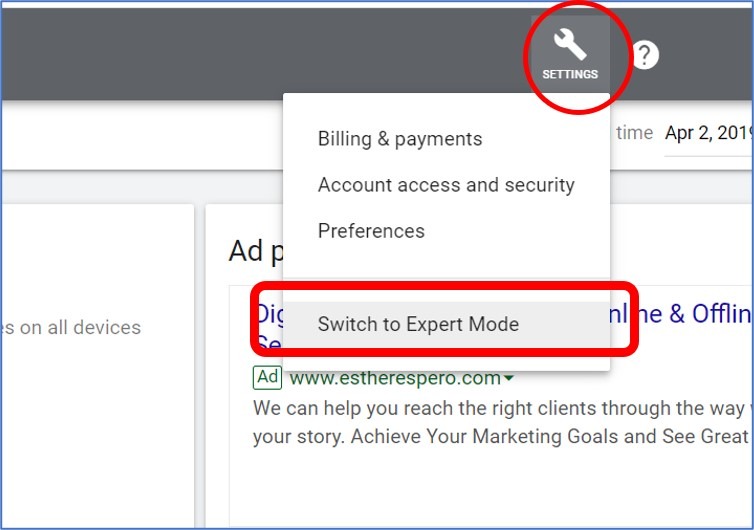 Note: Once you have switched to EXPERT Mode, you will not be able to switch back to SMART mode. However, your SMART campaign remains as a SMART campaign and can be edited in the EXPERT mode.
Free eBook
This article is extracted from the Free ebook on How to advertise on Google in 3 simple steps, written by Esther Goh Tok Mui for Espero Digital. You can download the free ebook here.