Day 2 – Learn how Google Ads engine works
How to succeed with google ads
This is a 3 days training via blog posts on How to advertise on Google.
This post is a continuation from How to Advertise on Google in 3 simple steps:
Step 1 –Fundamental understanding of Google Ads
Step 2 – Create and launch your Ads
Step 3 – Analyse Your Performance
This is the second part of Step 1 and it explains how Google Ads work. To succeed with Google Advertising, it is essential to understand how Google Ads rank an advertisement. This will help ensure that you achieve your desired results with minimal expenditure.
Let's begin with an example. When a user search a keyword, e.g. "flower shop", Google displays a list of advertisements as shown below. In the display below, why did Google display www.dawnq.com above the others?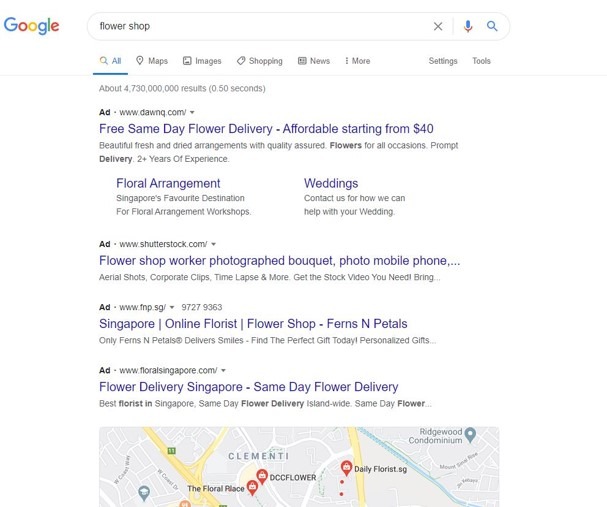 Each time a user search a keyword, Google runs an auction algorithm which assign a score called Ad Rank to each advertising site. Ad Rank is computed base on several factors that include:
1.The price per click you bid for each click to your webpage (also known as landing page)
2.The title of your Ad and keywords in your webpage (landing page) – your Ad Rank will be higher if the searched term matches the title of your Ad and the keyworks in your landing page
3.User's location, device, time of search
4.The competitiveness of the auction
5.Relevancy base on other users' time spent on each site
The bidding price is not the only determining factor. Google wants to ensure that the most relevant advertisement is displayed right on top providing greatest value to users. Therefore, to suceed with Google Ads, it is important to ensure that the advertisements and the landing page (webpage) is carefully worded. Select keywords that users are likely to search.
Google Structure
The next most important concept to understand is the Google Ads structure. Google Ads is organized into three layers: account, campaigns, and ad groups.
Your account is associated with a unique email address, password, and billing information.
Each campaign has its own budget and settings that determine where your ads appear. You may want to create a campaign for each product you have or for each holiday season promotion. This allows you to set and manage the budget for each promotion.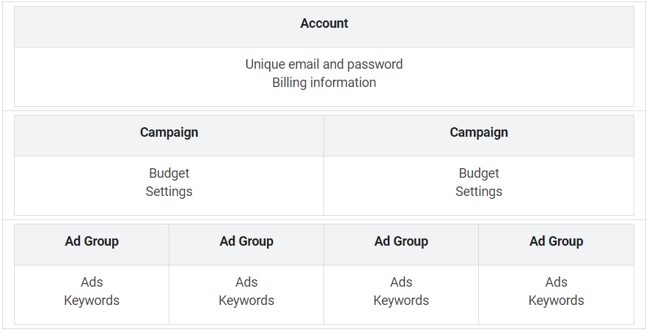 Within each campaign, you can create several advertising groups called Ad Group. Each Ad Group contains a set of keywords and similar Advertisements (Ads).
For example if you are the store owner of a shoe store selling children's shoes, ladies shoes and men's shoes, you should create an Ad Group for each category. Hence, within the Ad Group for ladies shoes, you can have keywords such as "women's shoes", "ladies' high heel", "ladies' sports shoes", etc.
 When you craft the advertisement, it is important to align the Ad Groups with your market segmentation. With this segmentation, you can identify the set of keywords that segment of customers are likely to search. This will help your Ads to be more relevant to that segment of customers. As Google match the searched keywords against the title of your Ads, you can carefully craft Ads according to the keywords that users are likely to search. As you run the advertisements, Google Ads statistics will show you which of your Ads have more impressions and clicks. This will in turn allow you to understand what potential customers are searching and hence tweak your marketing campaigns to meet customers' demands.
Free eBook
This article is extracted from the Free ebook on How to advertise on Google in 3 simple steps, written by Esther Goh Tok Mui for Espero Digital. You can download the free ebook here.