Proverbs 31:30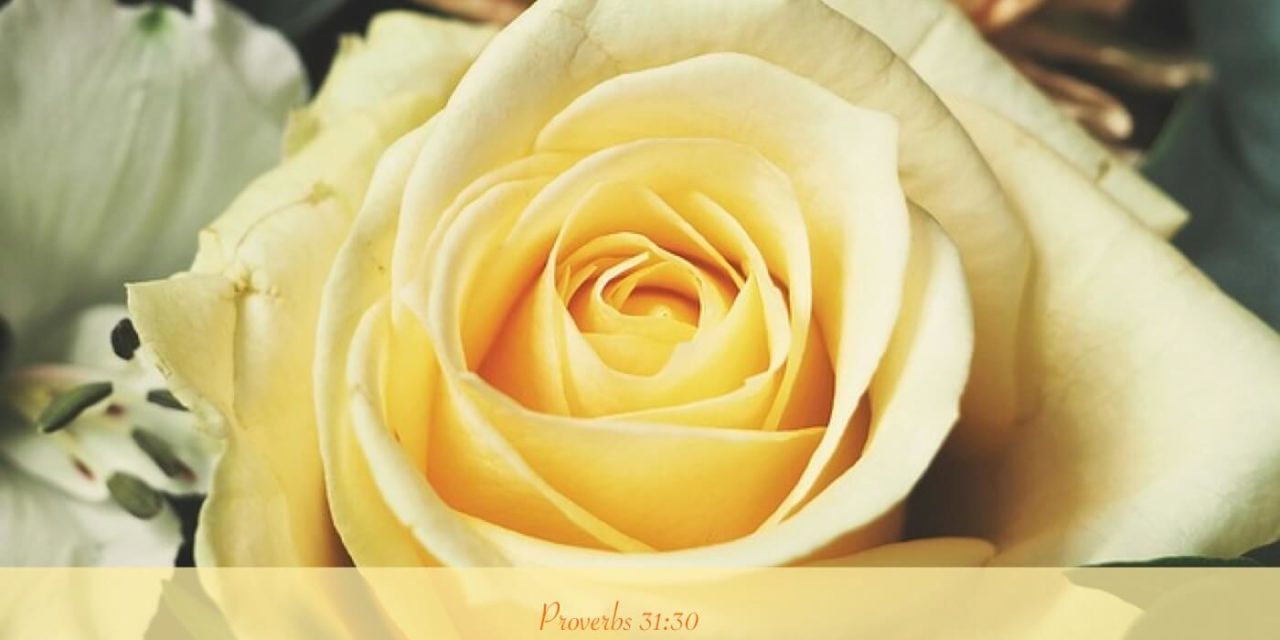 Charm is deceptive, and beauty is fleeting;
    but a woman who fears the Lord is to be praised.

Proverbs 31:30 (NIV)
Many people uses Proverbs 31 to set the standard for women. They say it described what a woman of God should be doing and her success is seen in verse 28 "Her children arise and call her blessed; her husband also, and he praises her".
However, today, I want to highlight to you that Proverbs 31 is first for the husband, then for men. Today, I also want to speak to women who have failed marriages as a result of a husband's infidelity, that ladies — you must not think it is because you have not live up to the standard described in Proverbs 31 that your marriage fail. Or simply because your husband does not praise you or your children do not appreciate you, it does not mean you have not achieved your award as a woman of God. Why did I say this? Because, doing all that is described in Proverbs 31 does not necessarily draw out an appreciating reaction from your husband and children. Just as much as when at work, you can do so much, you may not necessarily be appreciated by ALL bosses. It depends whether your boss is someone who knows how to appreciate you, whether he cherish what you are doing. 
I have a lady friend, a very capable and yet loving lady. She was a Deputy Director in our country's largest organisation when she was just at the age of 30. When she first became a mother, she was such a devoted mother that everything about her child comes first. She ignore her own needs and simply concentrate on providing the best for her husband and son. She even think of ways to bring her in-laws for tour so that they get to travel to beautiful places where they are still healthy. She has a kind and merciful heart too. However, having such a noble character did not bring out a husband who praise her. In fact, her husband would find fault with her, seeing that she is so capable, it makes him feels lousy. And, in reality, for 16 out of their 18 years of marriage, her husband led a double life. He used to be a church worship guitarist when they first met. However two years into their marriage, he being in the sales line, was often entertaining clients with prostitutes and of course as time past, he got so addicted into sex and prostitution that he frequents the brothel everyday. In the mean time, he was still attending church and bible study group with his wife. He however quitted the worship team and gave the excuse that it was due to his wife and child often falling ill and life become too stressful and demanding on him.
To maintain his double life, he often has to pick on his wife's weakness, and then justify to himself that it is for what his wife failed to do e.g. when she say something like:
"dear, don't tell me your office success, it reminds me of my past success and I have been having difficulty finding a job, I myself is too depressed and I don't wish to listen to office stuff at this moment.." .
A reply like this from his wife is ideal for his conscious and instead of helping his depressed wife and saying let's pray for a job for you, his reply would immediately be
"..ok..you don't listen, then I have other plans".
Or  if he cannot find any fault in her, he will look for something she dislike just so that it will provoke her and start a quarrel. He will then tell his sister, his mother, his friends, her sisters and even her mother so that everyone thinks that he has an unreasonable wife and should he be found out on his infidelity, no one will blame him.
Finally, after a 22 years relationship, his wife found out about his double life, and divorced him. When she told a sister in church that she is divorced, the sister said
"Recently God impressed upon me that as wives we should follow Proverbs 31"
How horrible a statement to say to someone who has just divorced and whose husband had never loved and cherished her. I know my friend very well, I can tell you for sure that she definitely has all the characteristics described in Proverbs 31. In fact after the divorce, she single handedly and very lovingly brought up her son. There was no quarrels, no more screaming in that house. Was it her fault? I would testify, never was! Her son will be the best person to testify the beautiful character of my friend.
So my dear lady friends, do not let Proverbs 31 make you feel lousy if you are someone who has tried your best to be a woman of God. God knows your heart. Am I against God's words? No. If you read Proverbs 31 carefully, it began with what the men should be — not indulging in wine and women but to treasure their wives. The ex-husband of my lady friend indeed was someone who completely did not do what Proverbs 31 say — he was addicted to women and wine and he ruined his marriage. Proverbs 31 is actually for husbands too. The right thing a husband should do is found in the last verse- verse 31:
Honor her for all that her hands have done,
    and let her works bring her praise at the city gate.
I am writing this to women whose husbands are womanising and yet accusing them. I am not writing this to women whose husbands are simply not verbalising their appreciation but he remained committed to the family. What kind of husband you have, you know. Most importantly, spend time telling our LORD Jesus your sorrows. If you are a woman we walks with God, and if you are blameless, our LORD Jesus will tell you so. Seek comfort from Him. Be a woman who fears God.
Charm is deceptive, and beauty is fleeting;
    but a woman who fears the Lord is to be praised.
Proverbs 31:30 (NIV)